The Rare Bone Disease Alliance is a new organization which will work to educate physicians, expand research on rare bone disease and assist rare bone disease patients, patient organizations, and family members.
​The Alliance will encourage professional, medical, and scientific societies to expand their educational programs on rare bone disease and will organize its own meetings and workshops.
​The Alliance is built on the progress and success of The Rare Bone Disease Patient Network (RBDPN), a coalition of patient organizations which was founded in 2006.
​Alliance participants include rare bone disease physician and scientific leaders, patient organizations, and pharmaceutical companies working in the rare bone field.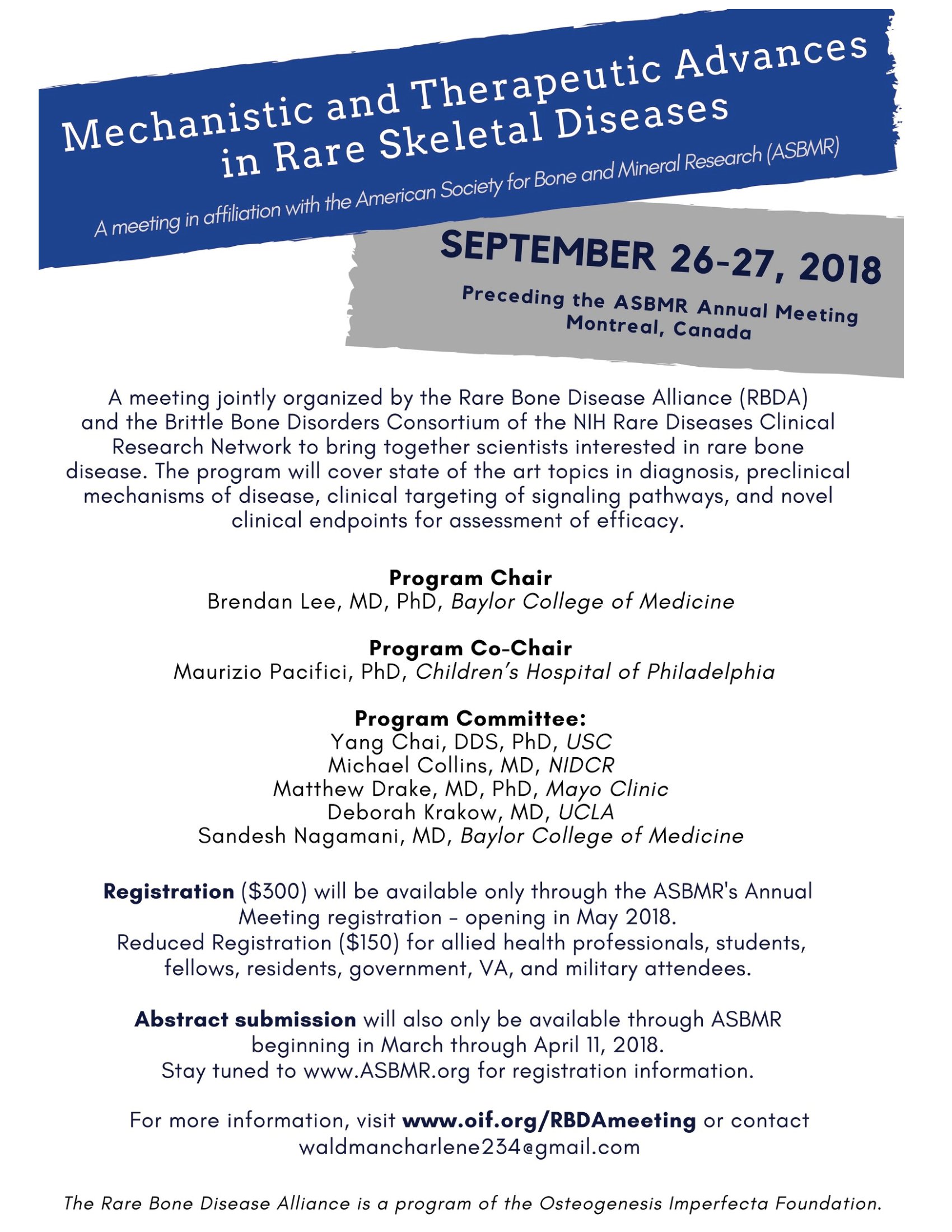 Patient Network Organizations
Scientific Advisory Panel
Thomas Carpenter, MD
Yale School of Medicine

Michael Collins, MD
National Institute of Dental and Craniofacial Research

Matthew Drake, MD, PhD
Mayo Clinic

Aris Economides, PhD
Regeneron Pharmaceuticals

Michael Econs, MD
Indiana University

Francis Glorieux, OC, MD, PhD
Shriners Hospitals for Children, Montreal

Suzanne Jan De Beur, MD
Johns Hopkins University School of Medicine

Frederick Kaplan, MD
University of Pennsylvania

Deborah Krakow, MD
UCLA

Craig Langman, MD
Northwestern University

Brendan Lee, MD, PhD
Baylor College of Medicine

Emily L. Germain Lee, MD
University of Connecticut School of Medicine
Connecticut Children's Medical Center

Michael A. Levine, MD
University of Pennsylvania
Karen Lyons, PhD
University of California, Los Angeles

Joan C. Marini, MD, PhD
NICHD

José Luis Millán, PhD
Sanford Burnham Prebys Medical Discovery Institute

Maurizio Pacifici, PhD
Children's Hospital of Philadelphia

Frank Rauch, MD
Shriners Hospitals for Children, Montreal

Eric Rush, MD
University of Kansas Medical Center

Jay Shapiro, MD
Uniformed Services University of the Health Sciences

Dolores Shoback, MD
University of California, San Francisco

Eileen Shore, PhD
University of Pennsylvania

Jill Simmons, MD
Vanderbilt University

Laura Tosi, MD
Children's National Health System

Matthew Warman, MD
Boston Children's Hospital

Michael Whyte, MD
Shriners Hospitals for Children



Charlene Waldman
Alliance Director
(917) 797-4946
click here to send an email
The Rare Bone Disease Alliance is a program of the Osteogenesis Imperfecta Foundation
804 West Diamond Ave, Ste. 210
Gaithersburg, MD 20878
(844) 889-7579 - www.OIF.org
The Rare Bone Disease Alliance acknowledges the unrestricted support of: